Namaskar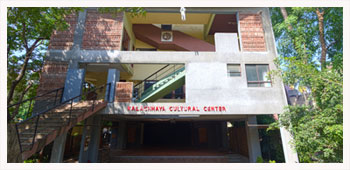 Kalachhaya was founded by Smt. Prabha Marathe (Gandabandh Shagird of Pt Birju Maharaj) in 1965, to promote the beautiful & lyrical style of Pt. Birju Maharaj. Kalachhaya has over the last 40 years grown into a "Banyan Tree", encompassing various aspects of Music, Dance, Art & Culture. The institute offers courses in Kathak, Tabla, and Hindustani vocal & Western music.
Spaces at Kalachhaya Cultural Center, Pune
Rangamandapam :


Offers a regular proscenium stage for various dance/ theatre/ instrumental performances. Houses an audience of 350 - 375 people.

Bahurupi Amphitheatre


One of the unique performance spaces, with earthen flooring specially maintained for dance & theatre performances.

Darshan The Dance Studio


Offers space for dance / theatre rehearsals, & small lec - demos. Has a capacity to accommodate 75 - 100 people.

Darpan Art Gallery


It was initiated in the Kalachhaya campus, in 2008. Apart from the ongoing performing art section.

Nakshatra Terrace Theatre


This is another very unique concept in the campus. an open to the sky stage surrounded by hills on 2 sides
Productions
• N.S.D workshop in 1990
• PRITHVI INTERNATIONAL DRAMA FESTIVAL - 1996
• Uday Shankar Dance Seminar 1996
• Indo - Japanese Music Workshop led by
Dr Tim Hoffman(Tokyo)
• Brihaddeshi a folk music festival by Sangeet
Natak Akademi in 2001.
Dance Productions
• Shyam Bansuria
• Pratima
• Gyaneshwari
• Shanti Aaradhana
• Avyakta ki khoj mein
Kalidas Festival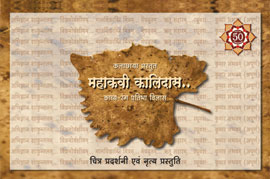 This is to kindly request you to mark your calendars for the "KALIDAS FESTIVAL, PUNE"
It's been a year since our institute, Kala Chhaya's Golden Jubilee celebrations have started, and we have another six months to go!!
We present the very prestigious, "Mahakavi Kalidas Festival", a paintings exhibition and dance performances.
Mr. Amol Palekar, well known theatre artist, and Mr. Anand Jog, Director, Darode - Jog builders, have kindly accepted to grace the occasion.
Date : 18th July 2015, 23rd July 2015 & 24th July 2015.
Venue : Kala Chhaya Cultural Centre, Pune.
Events