Our History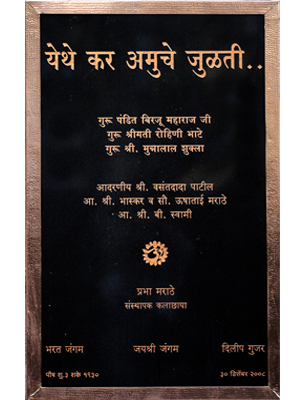 Kalachaya Foundation
Kalachhaya was founded by Smt. Prabha Marathe (Gandabandh Shagird of Pt Birju Maharaj) in 1965, to promote the beautiful & lyrical style of Pt. Birju Maharaj. Kalachhaya has over the last 40 years grown into a "Baniyan Tree", encompassing various aspects of the art field. The institute offers courses in Kathak, Tabla, and Hindustani vocal & Western music.



Foundation of Art Education
In the initial years Kalachhaya designed Diploma & Degree in Dance and Music also the Foundation Course in the Performing Art for the children below 12 years. students, especially the students coming from abroad.

Development & Growth
Kalachhaya has produced many national talents - performers as well as well renowned teachers. To name a few - Shri Raviraj, Shri Nadkishore, Smt. Jayashri Mhetri, Mumbai & also in Baroda ( Gujrath ). Since 1980 Smt. Prabha Marathe & Shri Bharat Janagam ( our main percussionist ) visit U.S.A. regularly to perform & to teach Kathak and Tabla. They have established various training centres in collaboration with University of New Mexico, Berkeley College of Music Boston, and the Antonia Minnecola Dance Company in San Francisco.

Cultural Forum
Kalachhaya has established its own cultural forum called " Sanskriti". The forum organizes lecture / demonstration, workshops & concerts of eminent scholars, performers & artistes of the national as well as of international repute. To name a few Prof. Badal Sarkar, Tabla Maestro Zakir Hussain, Pt. Jasraj, & Prof. Joan Erdaman.
Interaction
Kalachhaya has Worked in collaboration with various individuals & organisations and has produced number of shows & events.

On Regional Level
1. Theatre Academy,Pune.
2. Progressive Dramatic Asso. Pune.
3. Max Mueller Bhavan - pune.
4. Alliance Francaise De Poona.
5. Sanagam World Girls Guides & Scounts Centre, Pune.
6. American Institute Of Indian Studies - Pune.
7. Film & Television Intitute Of India, Pune.

On National Level
1. Shri Ram Bharatiya Kala Kendra - Delhi.
2. National School of Drama - Delhi.
3. Kathak Kendra - Delhi.

On the International Level
1. Prof Bill Evans, Modern Dancer, UNM
2. Jamey Haddad, Percussionist, Boston Music College
3. Warren Senders, Classical Singer, Boston
4. Jane Goldberg, Tap Dancer, N.Y
5. Marjorie Malone, Modern Dancer, New Mexico
6. Illeana Citaristi, Nuria & Fedrico Sanesi, Classical Dancers, Italy
7. Nancy Crump-Strecert, Tim Hoffman, Japan